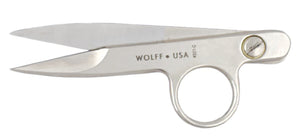 Wolff Industrial Thread Clip - Made in USA - Great for Clipping Hard to Cut Materials, Fishing Line Preferences
WOLFF THREAD CLIPS
High Quality, Made in USA Industrial Thread Clips

These thread snips are double heat treated with 1.5-inch cut length and a 4.5-inch overall length

It is an all-metal thread clip with spring in the constant open position. A rubber cap is included that keeps them closed when not in use.

These threadsnips are great clipping individual strands of hard to cut materials.

Great for clipping Monofilament Fishing Line, Stiches, Plastic Threads

Manufactured in America by Wolff Industries, the leader in Professional Shear, Scissors , and Cutting Tools

Ideal for many industries including Upholstery, Alterations, Fishing, Medical, and Many More.