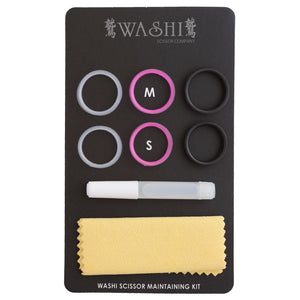 Washi Shear & Scissor Maintenance Kit - Cleaning Cloth, Oil, 6 Finger Inserts
WASHI BEAUTY & GROOMING - FINGER INSERTS
Take great care of your shears and they will take care of you!
Keep your shears working their best longer with the cleaning cloth and oil that you get with the Washi care kit.
It also includes 6 finger sizing rings for fitting the finger holes on your shear.
Lubricating and wiping down your shears regularly is a must for the working hair stylist or pet groomer. So is achieving maximum comfort on your skin without getting blisters and callouses. Washi has long been known in the professional hair industry for top notch products. Their maintenance kit is no different! Get it with fast and free shipping!
Model: Washi Maintenance Kit
Products Included: Cleaning Cloth, Scissor Oil, Finger Inserts