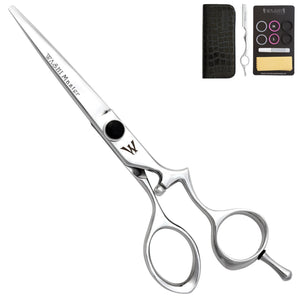 Washi Beauty - Zip Master Professional Hair Cutting Shear Scissor V10 Steel 5.5 or 6.0
WASHI ZIP MASTER BEAUTY SHEARS
The ZIP Master model is an Extremely comfortable and Ergonomic Shear
The Zip Master hair shear features Japanese V10 Steel.
The Unique handle design features a Bent thumb ring. The closeness of the finger and thumb ring increase Control and Comfort.
Case, Styling Razor and Washi Scissor Maintenance Kit included
Enjoy using convex edges that give you outstanding performance. This shear will slice cut, point cut and glide through hair with ease.
Durable Click Dial Tension Adjustment makes Loosening or Tightening your shear Easy and Accurate
Model Information
Model: ZIP Master
Cutting: 5.5", 6.0"
Model Details
Handle: Offset
Edge: Extreme Convex / Anti-Push
Assembly: Click-Dial
Recommended for: Everyday Professional Use