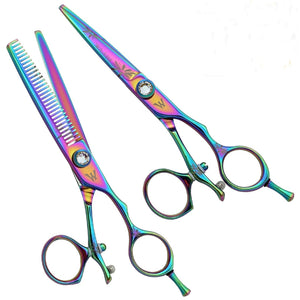 Washi Beauty - Rainbow Daisy Swivel 2 Piece Shear Set 5.5 Scissor 30 Tooth Thinner, Razor
WASHI RAINBOW DAISY SWIVEL SHEAR SET
The Rainbow Daisy Swivel Set is great for precision cuts. The edges are extremely sharp and carefully honed to eliminate hair sliding and folding.
The Rotating Thumb creates a horizontal cutting action which has been proven to reduce wrist fatigue. Shear length is 5.5 and the included thinning shear is 30 Teeth
Case, Styling Razor and Washi Scissor Maintenance Kit included
This Perfectly Balanced shear is forged from Japanese 440C Steel for Long Lasting Edge Performance
The Colorful Click Dial Tension Adjustment makes Loosening or Tightening your shear Easy and Accurate
Model Information
Model: Rainbow Daisy Swivel Set
Cutting Shear: 5.5"
Thinning Shear: 30 Teeth
Model Details
Handle: Swivel Thumb
Edge: Semi-Convex / Anti-Push
Assembly: Click-Dial
Recommended for: Everyday Professional Use