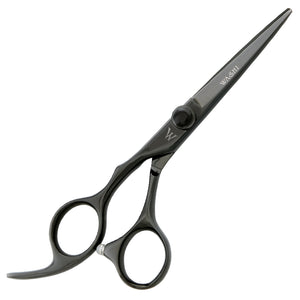 Washi Beauty - Lefty Black Dragon Shear / Scissor Japanese 440C Steel 5.5
WASHI LEFTY BLACK DRAGON BEAUTY SHEARS
The Black Dragon model is a Premium Beauty shear that is perfect for the beginner as well as the seasoned professional.
The LEFTY Black Dragon Washi Beauty Shear features an offset ergonomic handle designed to open the hand. This creates a wider grip to give you better control.
 Expertly honed edges feature anti-push edges for superior cutting performance. Left Hand cutting shear is available in 5.5. A Maintenance Kit is included with Finger Inserts and Scissor Oil
Made with Japanese 440C Steel and Semi-Convex Anti Push Edge for clean, accurate cuts
Durable Click Dial Tension Adjustment with jewel embellishment
Model Information
Model: Black Dragon
Cutting Shear: 5.5"
Model Details
Handle: Offset Lefty
Edge: Semi-Convex
Assembly: Click Dial
Recommended for: Everyday