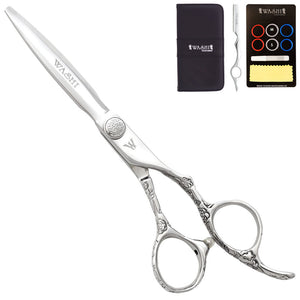 Washi Beauty - Knockout Master Shear / Scissor - Choose Your Size 5.5 or 6.0
WASHI KNOCKOUT MASTER BEAUTY SHEARS
Washi's Knockout Shear is both Beautiful AND Functional!
The Knockout Shear is Medium Weight and Designed for Comfort
Bent thumb ring and Lower Finger Rest cause a Relaxed Wrist Position
Case, Styling Razor and Washi Scissor Maintenance Kit included
This Perfectly Balanced shear is forged from Japanese V10 Steel for Long Lasting Edge Performance
The Click Dial Tension Adjustment makes Loosening or Tightening your shear Easy and Accurate
Satisfaction Guaranteed | 30 Day Free Returns. If you are not 100% satisfied with your purchase, simply return with free shipping within 30 Days
Model Information
Model: Knockout Master
Shear Length: 5.5", 6.0"
Steel: Forged Japanese V10
Model Details
Handle: Offset
Edge: Convex / Anti-Push
Assembly: Click-Dial
Recommended for: Everyday, Professional Use
At Modern Shears, we only feature the top selling and most highly rated shears in each category. If you are looking for additional models, please visit our eBay store for hundreds of great shears from brands like Kasho, Kamisori, Kenchii, Washi, and Wolff Industries.