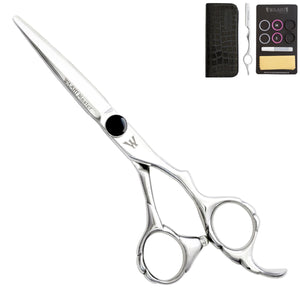 Washi Beauty - Gen Master Professional Hair Cutting Shear Scissor Japanese V10 Steel 5.5, 6.0, or 6.5
WASHI GEN MASTER BEAUTY SHEARS
The GEN Master shear is Masterfully Crafted and available in 3 Sizes
The Gen Master shear is a Medium Weight with Smooth Cutting Action
Well Balanced with a Bent Thumb Ring and Lower Finger Rest.
Case, Styling Razor and Washi Scissor Maintenance Kit included
This Professional Shear is forged with Japanese V10 Steel for Long Lasting Edge Performance. The Edge is fully Convex and Resists Pushing and Folding Hair
The Click Dial Tension Adjustment makes Loosening or Tightening your shear Easy and Accurate
Model Information
Model: Gen Master
Cutting: 5.5", 6.0", 6.5"
Model Details
Handle: Offset Bent Thumb
Edge: Extreme Convex / Anti-Push
Assembly: Click-Dial
Recommended for: Everyday Professional / Advanced Techniques