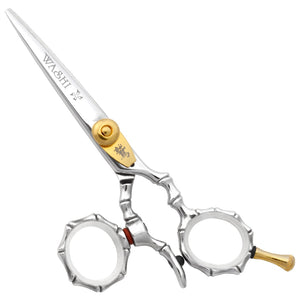 Washi Beauty - Bamboo Swivel Shear 5.5 or 6.0 Includes Razor, Case, & Maintenance Kit
WASHI BAMBOO SWIVEL BEAUTY SHEARS
Washi's Bamboo Swivel Shear is a High Quality scissor that is perfect for a new stylist!
The Bamboo Swivel shear is a Durable, Razor Sharp Shear set that will Last your Whole Career. Choose 5.5 or 6.0
Comfortable and Gorgeous shears featuring a unique, offset swivel thumb that will lower your elbow and shoulder position. This will create a more natural, ergonomic feel that will reduce wrist and thumb fatigue.
Model Information
Model: Bamboo Swivel Shear
Shear Length: 5.5", 6.0"
Model Details
Handle: Offset Swivel
Edge: Convex/Anti-Push
Assembly: Click-Plate
Recommended for: Professional, Every Day, High Volume Use, Beginners and Seasoned Hairy Stylists