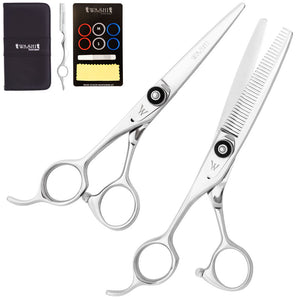 Washi Beauty - Eco Lefty Advanced Student 2 Shear / Scissor Set Choose Size 5.5 or 6.0
WASHI ECO 2 LEFTY ADVANCED STUDENT SHEAR SET
This is a great shear set for a beginner or a seasoned stylist who needs dependable back-up shears. Choose your Size - 5.5 or 6.0
Ergonomic, Offset Handle that is extremely comfortable.
The cutting shear can be used for most Cutting Techniques, and the the 35 Tooth thinner is great for a general purpose texturizer.
Case, Styling Razor and Washi Scissor Maintenance Kit included
Made with Japanese 440C Steel and Convex Anti Push Edge for clean, Accurate cuts.
Click Plate tension adjustment makes tightening and loosing shears easy.
Model Information
Model: Eco 2 LEFTY Advanced Shear Set
Shear Length: 5.5 or 6.0
Thinner: 35 Teeth
Steel: Japanese 440C
Model Details
Handle: Offset
Edge: Convex
Assembly: Click Plate
Recommended for: Beginners, High Volume, and Advanced Hair Stylists