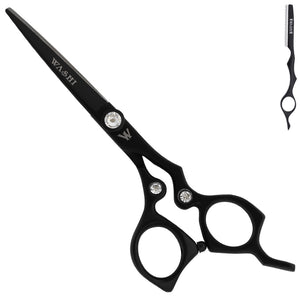 Washi Beauty - Diamond Ice Professional Hair Cutting Shear Scissor 440C 5.5 or 6.0
WASHI DIAMOND ICE BEAUTY SHEARS
The Diamond Ice model is a unique, Sparkling Shear with a Great Design
Get professional, beautiful results from the Diamond Ice shear. This is a great everyday shear that's lightweight and made with high quality Japanese steel
Its unique offset handles are comfortable in a high volume hair cutting environment. There are also a fantastic deal at under $200!!
Case, Styling Razor and Washi Scissor Maintenance Kit included
Enjoy using Razor Sharp semi-convex edges that give you outstanding performance every single day!
Durable Click Dial Tension Adjustment makes Loosening or Tightening your shear Easy and Accurate
Model Information
Model: Diamond Ice
Shear Length: 5.5", 6.0"
Model Details
Handle: Offset
Edge: Semi - Convex
Assembly: Click-Dial
Recommended for: Everyday Professional Use