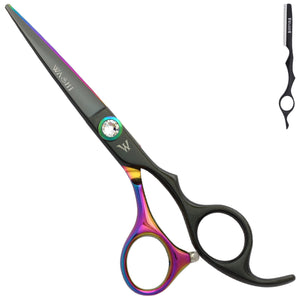 Washi Beauty - Blackbow Professional Hair Cutting Shear Scissor 440C 5.5 or 6.0
WASHI BLACKBOW BEAUTY SHEARS
The Blackbow is the coolest looking shear ever!
The Blackbow Shear / Scissor 5.5 or 6.0 is a Colorful and Unique Shear
The Offset Handle makes this shear Comfortable and Ergonomic. Great for High Volume Stylists looking for a Fun Tool
Case, Styling Razor and Washi Scissor Maintenance Kit included
Semi-Convex edge and Japanese 440C Steel will keep this shear performing for the Long Term
Model Information
Model: Blackbow
Shear Length: 5.5" or 6.0"
Model Details
Handle: Offset
Edge: Semi Semi-Convex
Assembly: Click-Dial
Recommended for: Everyday