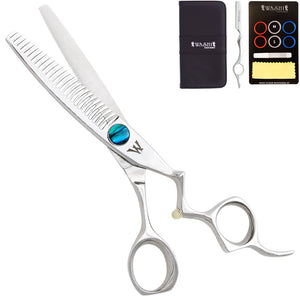 Washi Beauty - AX Ultimate 26 Tooth 6.0 Length Advanced Thinning & Texturizing Shear
WASHI AX ULTIMATE 26 TOOTH THINNER
This is a Washi Advanced AX Ultimate 26 Tooth Texture & Thinning Shear - 6.0" Length
High end Washi thinning shear that features a uniqe drop-finger handle design for Maximum Comfort.
Great shear for Slide cutting and other advanced Texturizing Techniques.
Shear can be used to Texturize, and Dimension, and Create Volume
Softly Blends layers and Removes Weight, leaving NO lines behind.
Case, Styling Razor and Washi Scissor Maintenance Kit included
Made with Japanese Hitachi ATS-314 Steel and Convex Anti Push Edge for clean, Accurate cuts.
Back Screw Dial CapTension Adjustment prevents hair from Catching on Dial
Model Information
Model: Advanced - AX Ultimate 26 Tooth Texture Shear
Shear Length: 6.0"
Steel: Japanese Hitachi ATS-314
Model Details
Handle: Drop Finger Design
Edge: Extreme Convex Edge, Anti-Push
Assembly: Back-Screw, Dial Cap
Recommended for: Advanced Stylists -  Texturizing, Thinning, Sculpting
Finger Rest: Fixed