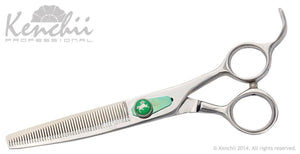 Kenchii Grooming - Mustang 48 Tooth 6.5" Thinning Shear
KENCHII MUSTANG 48 TOOTH THINNING SHEAR
The Mustang model is a Level 3 Professional Grooming Shear.
The Mustang model is a true workhorse, this semi-convex shear will cut effortlessly through all types of coats.
The large thumb hole and offset handle is a comfortable fit for most hands.
External assembly allows for easy adjustments to keep your shears operating at peak performance.
The Mustang thinning shear offered as a 48 Tooth Thinner, and is great for detail work and finishing a cut. It's also very comfortable and manageable at 6.5 Inches.
Model: KEMU Mustang Thinner
Length: 6.5
Teeth: 48
Model Details
Handle: Offset
Edge: Semi-convex
Material: Level 3
Assembly: External, Click Dial
Recommended for: Everyday, Volume Removal