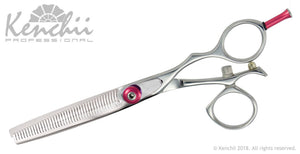 Kenchii Beauty - Vibe Swivel Thumb 40 Tooth Thinning Shear / Scissor
KENCHII VIBE 40 TOOTH RIGHT HAND THINNING SHEARS
The Envy Vibe has a swivel offset handle design ideal for those with carpal tunnel or hand fatigue.
The true convex edge is perfect for everyday cutting.
The level one materials ensure durability without a heavy price tag

!
These are fantastic thinning shears for anyone wanting to try a swivel thumb. They are a great value while maintaining Kenchii's incredibly high quality standards.
Kenchii level 1 products are great for beginners and everyday stylists. They provide exceptional value for your money without sacrificing quality and performance. This entry level Japanese stainless steel has good hardness, corrosion resistance and is able to keep a great edge. Rockwell: 54--55
Satisfaction Guaranteed | 30 Day Free Returns. If you are not 100% satisfied with your purchase, simply return within 30 Days. We will pay for your return shipping too!
Model Information
Model: KEVI Vibe
Thinner: 40 Tooth (6.0 Length)
Model Details
Handle: Offset
Edge: Convex
Material: Level 1
Assembly: Custom Envy External
At Modern Shears, we only feature the top selling and most highly rated shears in each category. If you are looking for additional models, please visit our eBay store for hundreds of great shears from brands like Kasho, Kamisori, Kenchii, Washi, and Wolff Industries.