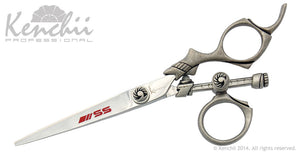 Kenchii Beauty - Shape Shifter Swivel & Adjustable Thumb Shear 5.5
KENCHII SHAPE SHIFTER BEAUTY SHEARS
The Shape Shifter has a specially designed handle featuring a thumb hole that slides forward or backward as needed.
The thumb on this model rotates 360 degrees for a truly customizable experience.
The Shape Shifter adds new meaning to the term swivel handle.
Kenchii level 4 products were created to satisfy the needs of elite stylists and platform artists who demand ultimate performance and design.
A truly high-end top of the line metal, mixed with pure base cobalt and vanadium for super strength, durability, wear resistance, and corrosion resistance.
Rockwell: 60--62.
Comes in hard case with finger sizer, shear oil, and a Warranty Card.
Model: KESS Shapeshifter
Size: 5.5
Handle: Offset w/ Swiveling, Adjustable Thumb Ring
Edge: True Convex
Material: Level 4
Assembly: Custom Internal