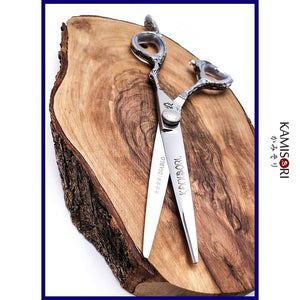 Kamisori Beauty - Diablo || Professional Haircutting Shears Made in Japan - Choose 5.0, 5.5, or 6.0
KAMISORI || DIABLO BEAUTY SHEARS
This beautiful Diablo model has become a #1 hot seller since launch.
The Diablo Cutting Shear from Kamisori is available in 3 Lengths - 5.0, 5.5, or 6.0
The Diablo Beauty Shear features a Beautiful engraved handle together with a sharp and durable convex edge. Designed for basic to mid-level cutting.
List of awards: American Salon Pro's Choice (multi-year), Beauty Launchpad Readers Choice (multi-year) Hairdresser Journal Stylists Choice, Canadian Salon Hairdresser Favorite tools , Coiffure de Paris 

***We are an authorized Kamisori Dealer. All of the Kamisori Shears we sell are 100% Brand New and come directly from Kamisori***
Model Information
Model: Diablo 2
Shear Length: 5.0, 5.5", or 6.0"
Colors: Silver
Exclusive Kamisori lifetime warranty
Model Details
Handle: Offset
Edge: Convex
Assembly: Click Dial
Recommended for: Everyday, High Volume