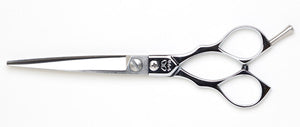 Yasaka Japanese Beauty Shears / M60 Even Handle Shear - 6.0 in.Length
YASAKA M-60 EVEN HANDLE SHEAR - 6.0 LENGTH
Yasaka offers high quality Japanese shears at an affordable price. The Yasaka M60 Features Classic, Grooved, Even Handles that are extremely Ergonomic and Comfortable when cutting. Total Length is 6.0 inches.
Made from the highest quality Hitachi Japanese Steel for Durability and Ageless Cutting Performance
The tradition continues with Yasaka shears. They have been a mainstay for over 40 years with professional hair stylists. The Quality has been consistent for decades.
Perfect for beginners, seasoned professionals, and anyone in between. These shears are Lightweight and Ergonomic. The crisp, convex edges will retain sharpness and keep you working. These are great shears for High Volume Hair Stylists as well.
Yasaka classic Japanese beauty shears. Professional hair stylists have known for over 40 years that Yasaka shears are the real deal. These beauty shears are lightweight, ergonomic, and razor sharp. Made with the highest quality Japanese Cobalt Stainless Steel (ATS314). These shears will keep a great edge and produce great hair cutting results every time.
Model Information
Model: M60
Handle: Even, Classic Ergonomic
Edge: Convex
Country of Origin: Japan